This guest post was written by Sana Khatib about her visit with a Syrian refugee family. Specific names and locations have been omitted in order to protect their privacy.
I knew I was in the right place when I saw stained sofas and mattresses on porches, spray painted houses with boarded windows, and shirtless teenage boys on the street corner. On September 25th, someone robbed the refugee family I was going to visit of the $1200 that they had managed to scrounge together for rent. When they returned home, the house looked like the dressers threw up and the table that used to hold a donated laptop was barren.
I pulled into the driveway, reluctant to block the entrance. Turning on the hazard lights, I quickly opened my trunk and attempted to pull out the large wooden dresser. A middle-aged man with round eyes like bouncing balls and leathery tanned skin approached me. "Ahlan! Yateekee al afiya," he chirped in Arabic, which roughly translates to "Hello! May God grant you health." He gestured for me to step away so he could take over. "Who do you think put this in the trunk in the first place?" I asked facetiously. He let out a light-hearted chuckle.
My eye caught a glimpse of a young boy wearing worn out jeans and a Seattle Seahawks t-shirt. "Come here," I called for him, "I have a present for you." His eyes brightened as I gave him a Nintendo DS that once hid untouched in the bottom drawer of my daughter's room. I thought about the unopened gift boxes from her birthday party last month. The boy thanked me and ran into the house as if to hide his new treasure before I changed my mind.
We stepped onto the porch carrying the heavy dresser. I dreaded the soreness I would feel the next day. A bubbly lady opened the door with a large smile and greeted me with three kisses on alternating cheeks. This is the customary way to greet in Syria; the gratuitous third kiss reflects the graciousness deeply woven within Syrian culture. Then each daughter came shuffling in one by one offering me the same three kisses. They showered me with gratitude and welcomed me in. My blushed cheeks matched the peach sofa where I took a corner seat.
My eyes caught a glimpse of the large pumpkin sitting on the kitchen counter. It had black eyes and a zigzag mouth drawn on with Sharpie.
"My son brought that home from school," said the mother. "He said there's a celebration where people wear costumes  and eat lots of candy."
"That's right," I confirmed, "It's called Halloween. You may get some kids knocking on your door tonight. You might want to grab some candy to offer them."
Their puzzled looks led to joint laughter.
"So how are you coping?" I asked.
"At first I would cry everyday," the mother answered. "But now I'm ok."
"This is not what I expected to see when I got here," the eldest daughter interjected. "Everyone smokes hashish and there are so many homeless people living on the street."
"Yeah, don't worry about them," I assured her. "They're mostly harmless."
She began to describe how difficult it was going from being a second year pharmacy student to considering a job as a cashier just to help pay the bills. "Women don't work as cashiers in Syria. This is not a part of our culture," she cried.
The father boasted about how talented of a tailor he was back home – he knew the patterns for any garment and showed off how well he understood the intricate sewing details on the black and white athletic top I was wearing.
"But now I work on a small domestic machine someone donated. It could take an hour just to sew a simple pair of pants," he grumbled. "I wish there was a factory where I could find work, but Americans outsource all of their sewing to China.
"We had to fix the car the other day," the mother said changing the subject. "It cost us $450. After the repair, it broke down again and we had to take it back to the shop. That piece of junk cost more to fix than what it's worth," she said frustrated.
"If I just had a predictable income each month, I wouldn't stress about such things," explained the father.
The youngest daughter came out with mango juice and two slices of cake on a plate. I'll have to do an extra half hour of cardio at the gym after this, I thought to myself. I was tempted to decline the offering, but remembered how offensive that would be in Syrian culture.
"You know, my parents immigrated to North America under similar circumstances," I said trying to comfort them. "They had nothing at first," I continued, "and relied on the kindness of others. But now they live in a beautiful house in the suburbs and cannot imagine life anywhere else. Don't worry, with time everything will get better."
The mother's eyes desperately wanted to believe me. I thought about how much she must miss drinking tea with her neighbors on the balcony or smelling the fragrant Jasmine flowers that decorate the streets of Syria.
I looked at my watch. It was time to pick up my son from soccer practice and I had at least a forty five minute drive ahead of me.
"Unfortunately I have to get going," I said as I stood up.
"It's too soon. You haven't even finished your cake," the daughter pleaded.
"It was delicious, thank you," I responded.
I approached the mother and daughters one by one to grant them their three rightful kisses.
"Fursa saeeda," I said self-consciously dusting off my rusty Arabic expressions.
"Thank you for everything," said the mother.
I walked out to the sight of the neighbor's BEWARE OF DOG sign. Quickly getting into my car, I shut the door and locked it. I took a deep breath and thought, as difficult as their lives may be, they are the fortunate ones who escaped to America.
---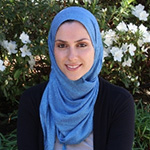 About Sana Khatib
Sana Khatib is a Syrian American whose family fled political persecution in Syria over thirty years ago. She is the mother of two beautiful children, and works as an English teacher in California. She wrote this piece in an attempt to help Americans understand what life is like for Syrian refugees in America in the hope to build compassion toward these families whose struggles continue for many years after fleeing war.