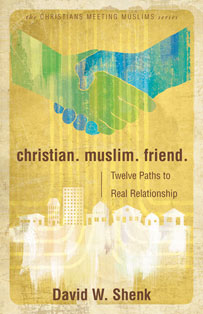 Can Christians and Muslims be friends? For Mennonite missionary David Shenk, the answer is not only a resounding yes, but a resounding imperative that we must diligently pursue and cultivate such friendships.
In his recent book Christian. Muslim. Friend: Twelve Paths to Real Relationship (Herald Press, $14.99), Shenk writes from the perspective that "every Muslim should have a Christian friend and every Christian should have a Muslim friend."
He goes on to describe twelve paths to reach that goal, each of which is the subject of a chapter in the book:
… we live with integrity. We keep our identity clear. We cultivate respect. We develop trust. We dialogue about our differences. We practice hospitality. We answer the questions. We confront distortions. We consider the choice between the hijrah [the journey from Mecca to Medina] and the cross. We seek peace and pursue it. We partner with the person of peace. We commend Christ.
Shenk speaks from experience — he has spent over 50 years involved with Christian missions in Somalia, Kenya, the United States and around the world. He describes this book as "a collection of stories about my journey of meeting Muslims and greeting Muslims." That is partly true, but Shenk is being modest. The stories of his interactions with Muslims offer profound insights into the nuances of interfaith relationships.
Shenk is forthright in his exploration of Christian/Muslim relationships, never shirking difficult topics. He explores the historical, political, social and theological contexts of both faiths, noting their similarities and differences, and offering wisdom on how to navigate the paths of true dialogue and understanding.
For example, he urges Christians to be cautious in thinking we understand the message of the Qur'an:
I grieve, as do Muslims, when Christians take an English interpretation of the Qur'an and determine that they have come to understand the meaning of this scripture. To understand the meaning, there is only one acceptable and wise way; that is to ask the Muslim ulama [religious scholar] to explain the Qur'an to those of us who are not Muslim. This is urgent. It is not wise or appropriate to claim we have come to understand the Qur'an unless we have submitted to the rugged disciplines of study and consensus that Muslims believe are necessary to understand the Qur'an's message.
Shenk is also acutely aware of current events, and devotes two chapters to discussing the global concerns of terrorism and jihadism. He discusses paths toward peacemaking relationships, and offers practical steps to begin to find peace where there is so much conflict.
Christian. Muslim. Friend. stands in stark contrast to the vitriol that pervades public discourse about Christianity and Islam. While continually urging respectful and humble engagement, Shenk remains unabashedly Christian, adhering to the fidelity of conservative Mennonite faith. It is precisely because of that faith that Shenk is committed to seeking peace and understanding.
Christian. Muslim. Friend. is part of the Herald Press's Christians Meeting Muslim series, which also includes A Muslim and a Christian in Dialogue, Journeys Of The Muslim Nation and the Christian Church and Teatime in Mogadishu. Based on my experience reading Christian. Muslim. Friend, all of those titles are now near the top of my to-read list.
Through his example of thoughtful and meaningful Christian engagement with Islam, Shenk offers hope for peace and understanding amid a divisive and often confusing religious landscape. It is a hope that is fostered by respect, integrity and honesty, instead of by anger, hate and fear. Shenk's is a decidedly Christian hope, rooted in the person of Jesus Christ. But it is also a hope shared by countless Muslims across the globe. Let us work and pray to make that hope a reality: that all of us — Christians, Muslims and others — can find lasting peace and friendship.
---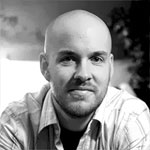 Dan Wilkinson
Dan is the Executive Editor of the Unfundamentalist blog. He is a writer, graphic designer and IT specialist. He lives in Montana, is married and lives with two cats.