Today I'm happy to announce that I have one brand new hardcover edition of N.T. Wright's newest book, Simply Good News: Why the Gospel Is News and What Makes It Good, available to give away to one of our lucky readers.
I reviewed Simply Good News a couple of weeks ago and Scot McKnight reviewed it last week. If you haven't yet read Simply Good News, here's a chance to get your hands on a copy of your very own.
Enter to win below. The giveaway ends at midnight Eastern Time on Sunday, January 25, 2015 and the winner will be announced on this post Monday, January 26. Good luck! The giveaway is over! Thanks to all who participated and congratulations to the winner, Kenneth S.!
---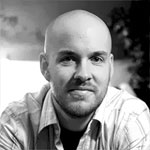 Dan Wilkinson
Dan is a writer, graphic designer and IT specialist. He lives in Montana, is married and has two cats. He blogs at CoolingTwilight.com.