Since the middle of the week, when I sat with some church and community folk to read and re-read the Gospel I have been praying on Nathanial's question "Can anything good come out of Nazareth?"
Nathanial was a lot like us. The commentaries say that the reference to sitting under the fig tree was an allusion to the practice of Jewish people who sat under the fig tree and studied Torah. When Jesus said "I saw you sitting under the fig tree" he was saying to Nathanial "I know you and I know that you have been waiting a long time for the Messiah and you know that way before you were sitting here God created the whole wide world and declared it good."
Nathanial was yearning for something good to come and yet he doubted that this something good would ever arise from the back waters. His heart was in the right place but his eyes were clouded by his prejudice. Like our eyes are clouded, if not blinded, by what we think God's gift should look like and where it should come from.
This week while praying on Nathanial's question, I heard on the news terrible comments reportedly said by the President about people from Haiti, El Salvador, and African countries, places that you might call a Nazareth. I thought: We have not come so far. We, meaning the President and you and me too, have not come far from Nathanial's question. When I hear Nathanial and I hear the President and I hear the rants and raves of the commentators, both the Bible commentators and the news reporters, I hear my own limitations and prejudices and doubts.
I believe that God created all and that all was declared good. Yet we who are created good deny and still doubt that God, who is acquainted with all our ways, would stoop—for what more is the incarnation than a stooping God? That God would stoop to love and be like the likes of us.
I give thanks that my point of view, and Nathanial's point of view, and the President's point of view are not God's. If I was to count the thoughts of God, says the Psalmist, they would be more in number than the sand, to count them all, my life span would need to be like Yours O God.
This morning, half way through the season of Epiphany when God breaks into our minds and hearts and our prejudices and power plays, let us give thanks that in fact something good comes out of everywhere and there is no stopping God from entering every heart and mind and place, from the poorest to the mightiest of us all.
Yes Nathanial, something good can come out of Nazareth. And Africa. And Haiti. And Washington, D.C. And my little backwater of Shelburne Falls. Now and forever. Amen.
Photo by Tim Trad on Unsplash.
---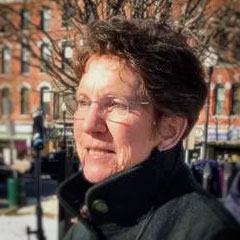 About Marguerite Sheehan
Rev. Marguerite Sheehan is a United Church of Christ pastor presently serving Trinity Church, an ecumenical church in Shelburne Falls MA. She blogs at reverendmarguerite.wordpress.com and also writes a pastoral column for the Shelburne Falls West County Independent newspaper. She is a pastor, preacher, wife, lesbian feminist, mother, friend and grandmother.