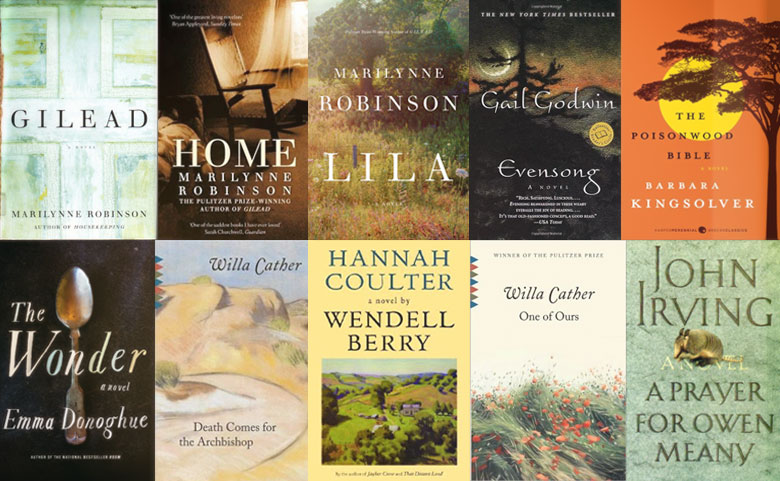 [Editor's note: see the end of this post for a chance to win a signed copy of Lila, by Marilynne Robinson.]
When I left fundamentalism and evangelicalism behind, I educated myself by reading books on theology, self-help, church history, and current church issues. Rachel Held Evans, Peter Enns, Anne Lamott, Keith Ward, NT Wright, CS Lewis, Barbara Taylor Brown, Sarah Bessey, Lauren Winner, and others came to my rescue.
However, reading non-fiction could only take me so far. Sometimes you need art, because art is a gentle teacher, reorienting your thinking by showing you images instead of facts. I needed that, because no matter how many facts I took in, my default setting seemed to be anxiety. I needed pictures of people leading lives free of dread and worry, pictures of people who relied on God because of love and not fear, pictures of people treating their neighbors with kindness and understanding. That's where fiction came in.
Here are ten novels that meant alot to me, with a quote from each one.
1, 2, and 3. Three novels by Marilynne Robinson, Gilead, Home, and Lila, are the stories of a gentle small-town minister and his family and friends. Don't let that fool you, though—nobody gets off easy in these books. When characters' lives get derailed, through their own actions or the actions of others, these novels emphasise caring for each other and listening.
"It seemed to me to be half sadness and half fury, and I wondered what in her life could have put that expression in her eyes." (Gilead)
4. The main character of Evensong by Gail Godwin is a female pastor married to a difficult, albeit devoted, man. There is no concept of a "checkered past" here, just a life with ups and downs.
"That I had chosen to go off and make my home with this person who had destroyed my father's marriage, scandalized our parish, and robbed me of my mother when I was six, offended or baffled everyone who knew me."
5. The Poisonwood Bible by Barbara Kingsolver is one wild literary ride. A fiery minister takes his family to Africa, where his lack of support and dubious religiosity turn their lives into a dumpster fire of chaos. The writing is stunning, telling the story from the viewpoints of the wife and daughters, each of whom has a individual voice and a unique take on their experiences.
"God doesn't need to punish us. He just grants us a long enough life to punish ourselves."
6. The Wonder by Emma Donoghue. This book explores the topic of miracles, what they are or aren't, and how we respond to them.
"The day you first opened your eyes, Anna, God asked just one thing: that you live."
7. Death Comes for the Archbishop by Willa Cather is one of the loveliest novels I've ever read. A priest comes to the American southwest in the mid 1800s, and stays.
"An apparition is human vision corrected by divine love."
8. Hannah Coulter is one of many novels by Wendell Berry that could go on the list, but this one is my favorite. The small Kentucky community is a source of enviable support.
"The chance you had is the life you've got."
9. Willa Cather's One of Ours explores what it means to want something more.
"He is not so much afraid of loneliness as he is of accepting cheap substitutes."
10. A Prayer for Owen Meany by John Irving is one of my all-time favorite novels. The writing draws you in and the plot keeps you going. This is not one of those quiet, gentle books. This one kicks you to the end like a kid kicking a can down the street. Hang on.
"If you're lucky enough to find a way of life you love, you have to find the courage to live it."
Have you found other novels that helped you through a time of changing spiritual values? I'm always open to suggestions. Happy reading!
Leave a comment below recommending your own favorite book(s) for recovering fundamentalists (fiction or non-fiction, but especially fiction!) for a chance to win a copy of Lila, signed by Marilynne Robinson. One winner will be randomly chosen from all comments (one entry per person) that recommened a book and are received by midnight EST on January 9, 2018. The winner will be announced here on January 10. —Dan Wilkinson, Editor, Unfundamentalist
---
About Yvonne Shao
Yvonne Shao blogs at Escaping the Empty Nest. Find her on Facebook and Instagram.