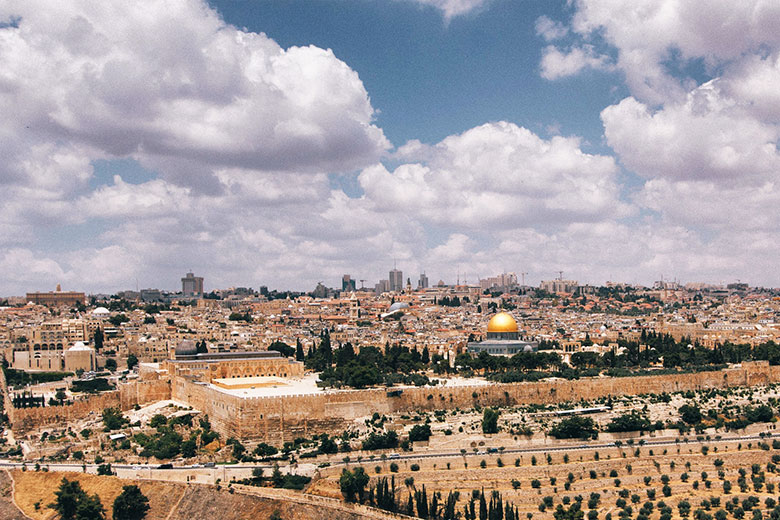 For many years, I had anticipated with anxiety last Friday's presidential announcement that Jerusalem would finally be recognized as the capital of Israel, of God's Chosen People. I felt fear and panic whenever I saw something that I had been told meant a prophecy was being fulfilled, and was leading our world closer to its cleansing and its end: the final Judgment of all judgments, ringing in the Rapture where God's saints would be fetched up with a single trumpet signaling we were "going home" to heaven.
Being part of God's Kingdom meant many things to me as a child. For one, it meant I wouldn't burn in a literal hell for eternity. Also, it meant I would be reunited with any loved one who had believed and accepted Christ as their personal Savior, granting them a place to worship at His throne forever. So, two major things that concluded in a positive way of thinking, right?
Wrong.
I say this because I know the other teachings Christian Fundamentalism includes. Forgiveness of sins is only part of the salvation they preached. As a Christian, you've also reserved a place to point out those that have not experienced such forgiveness, deeming others of your fellow human race damned by the guidelines you were given to separate the "Goats from the Sheep."
As a child, I have strong memories of scanning crowds of strangers, searching for other believers, because I knew if they didn't resemble me, chances were they were going to hell, and this brought terrifying images into my little girl mind. From a young age, I could feel hell. Smell hell. Struggle to breathe through the smoke of friends and family members burning. I had to accept this, testify to this, to try and persuade others of God's love and that He alone could provide them eternal life to prevent this from happening.
This was very traumatic.
Equally traumatic was when preachers and Sunday school teachers described what it would be like to watch someone you loved who was lost be thrown into hell. Even as I write this, I cringe as I realize that I once believed this so strongly that I cried before falling asleep, only to be further tormented by nightmares about hell. I started envisioning little children that had reached the "age of accountability" sharing a place with a murderer, just because both of them refused to accept Christ as their personal Savior—as if death, itself, wasn't enough for a child to fear.
Then there were the horrors of the end times, like I mentioned at the beginning of this article. The mass murder of Armageddon, when blood would fill a battlefield so deep it reaches the height of a horse's bridle. When the monsters, demons, and reprobates would be unleashed to exterminate each other, leaving, and eventually cleansing, the world, before God destroyed it completely with fire.
Fire, always fire.
They said that fire cleanses. That it creates a clean slate to start all over again. That a beautiful and perfect world would follow after its ashes were gone. But the ashes were of fellow humans who were designated collateral damage to distorted religious belief.
This polluted view of Christianity was heartless, bloody, and horrifying.
This is the fundamentalism I was once enslaved to. A twisted belief that valued one human over another, encouraging separation and segregation. Cut off from everything. Humans from humans. Color from color. Gender from the other gender. Adults from children. One religion from another. Where the conscience was manipulated and differences were labelled evil.
It was a belief that viewed peace and tolerance as personal evils that would result in persecution for those that refused to treat others in a way that said, "you're my neighbor, I respect you, regardless of our differences." This was my belief from a child until I turned away from it as an adult, and began to feel empathy for all the "wrong" reasons. Feel. A word that is as dangerous as a free mind in a controlled environment.
Now, I find myself asking this question: "Do I really want to be part of the crowd that celebrates when a group of people separated by religious, cultural, and language barriers are attacked, dehumanized, and designated less than their neighbor?"
No. I do not.
Neither will I celebrate this "prophecy" being fulfilled. It is not a form of prophecy. It's damning. It's hurtful. Those that have embraced a twisted gleefulness about a disastrous decision have left me unable to accept or agree with that emotion.
Because, I feel no such emotion as glee.
I was in a state of disbelief as I watched how, because of one man's ill thinking, he created even more distress in a single part of the world. I was watching fundamentalism. Unhealthy control. And, for me, that was why I felt disconnected. Because I am. I'm now on the outside of dogma's walls. Free, but also orphaned. And my feelings followed a familiar pattern: disbelief, triggering, and fear. But, this time, I get to take a deep breath and let it go into an open space. Clear-minded and refreshed that I feel that same empathy I began to know in the very first steps of breaking away from fundamentalism.
Since I no longer have to feel a forced sense of glee that the world will be destroyed, I now can dwell on the hurt currently being felt in the world. And there's a lot. The thing about hurt is that, unlike my former fundamentalism, it doesn't discriminate. It knows no limits and its reach is far and ever present. While I see celebration in one city, just outside of it I hear cries of injustice and dismay from a people who have lost a part of their identity.
And, I suppose, that is something I will always relate to or, at the very least, empathize with. Because of that emotion, I finally belong to the human race. For twenty or so years of my life, I never could. But now, as hard as it is seeing all the newfound hurt, I find some sense of solace that, as long as I think about my neighbor, maybe some healing will eventually take place.
Until then, strive for peace and understanding. Differences truly make us stronger. Accept and embrace. Remain part of this wonderful thing called the human race.
Photo via Unsplash.
---
About Lydia Joy
Lydia Joy is a childhood sexual abuse survivor and former member of Independent Fundamental Baptists (IFB) where she was born and raised, until leaving in her early twenties. She hopes to help others by sharing her story. There's freedom in questions.